Guest Artist Series: Creating Anti-Racist Theater: Lisa Kron
Monday
,
Mar.
06
at
12 p.m.
Virtual Event Zoom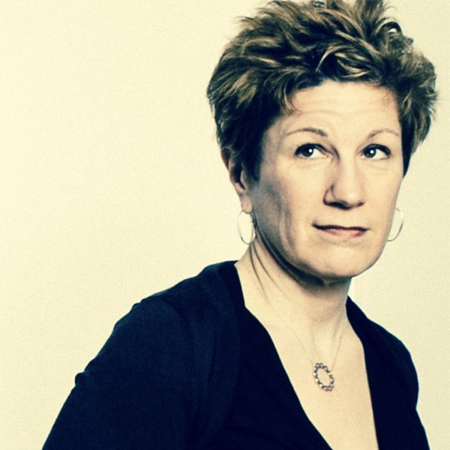 Guest Artist Series: Creating Anti-Racist Theater is the professional guest artist series of the School of Theater, offering students, faculty, staff, and members of the theatrical community the opportunity to discuss and explore ideas and practices around building inclusive spaces and practices in the global theater industry.
Djola Branner, Director of the School of Theater, developed this program to create opportunities for students to critically engage in their industry while studying at Mason. The purpose of the series is to develop awareness through conversation of the underrepresentation of marginalized voices in American Theater and become familiar with BIPOC artists and scholars who are engaged in conversations for radical change and racial justice.
About the Artist: Lisa Kron has been creating and performing theater since moving to New York City from Michigan in 1984 and finding a home at the WOW Cafe, a lesbian theater collective in the center of that era's rich East Village performance scene. She's best known for writing the book and lyrics for the musical Fun Home, with music by composer Jeanine Tesori, which won five 2015 Tony awards, including Best Book, Score, and Musical, and was a finalist for the Pulitzer Prize.  Lisa's other plays include In The Wake, Well, and the Obie Award-winning 2.5 Minute Ride.  As an actor, she received a Tony nomination for her performance in Well and a Lortel Award for her turn in the Foundry Theater's acclaimed production of Good Person of Szechuan.  She is the recipient of Guggenheim, Sundance, and MacDowell fellowships, a Doris Duke Performing Artists Award, a Cal Arts/Alpert Award, a Helen Merrill Award, the Kleban Prize for libretto writing, and grants from Creative Capital and NYFA.  Lisa is a founding member of the OBIE- and Bessie-Award-winning collaborative theater company The Five Lesbian Brothers.  She's served as an elected member of the National Council of the Dramatists Guild of America since 2010.  Lisa is VERY proud to be part of a theater-based giving circle called Save Our States that raises money as a community every election cycle to support The States Project, an organization working successfully to shift the balance of power in state legislatures, where it matters most!!